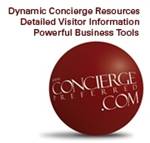 HRM has been developed to assist companies and groups with their visits to Chicago. When you're planning a meeting, special event or group stay in Chicago and you don't know exactly who to call, where to have it, or what they charge, call us...we do!
Hotel Reservation Management, Inc. can provide you with creative, cost efficient planning that will save you substantial time and money. HRM, founded in 1982 is a leading meeting planner and ground operator in Chicago. We can suggest the most interesting and unusual meeting places in Chicagoland.
HRM's number one priority is meeting your needs by finding the best hotel and meeting locations for your group and activities. We know them all - from the most elegant to the most budget minded, from downtown to O'Hare and the suburbs; the usual places, but the unusual spaces too. HRM is familiar with unique locations that you won't find in the yellow pages or tourism guides. This expertise can be just the edge you need.
Tell us what you want and HRM will find and arrange it!
E-mail, phone or fax us. Our phones are answered 24 hours a day, 7 days a week. Our office hours are 9AM -7PM weekdays.

Please call us at 312-649-0597 or e-mail us for more information!